Please Click the Links for Purchase Information:
Erin Garret stands alone by the graveside of her grandfather. As the old paleontologist's sole heir, he has left her everything, including a dangerous secret, a map and a warning. As she is swept up and into a world of treachery, she finds one man who earns her trust. But can he save her from greedy hands?
Andre Diego follows his fate beyond the Andes Mountains, earning his way through life as a soldier and agent. When his path crosses Erin's, he finds more at stake than duty and it's highly personal. His strength alone cannot carry them through. Before time runs out, they must work together to find the Blue Star, Estrella Azul.
Two cultures, two lives, one path.
Elizabeth Smythe is taken away from her privileged life and everything she knows. Her rescuer, Spirit Walker, treats her with gentle compassion, winning her trust and love. Elizabeth discovers Spirit Walker is so much more then just a strong man devoted to his tribe.
Spirit Walker is a multi-faceted man who carries the honour of his people with deep pride. Despite the wrongs committed against him, he knows crucial timing will reward his patience and soon enough fate plays it's hand fulfilling the blood price he so longs for. 
Henrietta James is completely satisfied with her polished, metropolitan lifestyle until she accepts an assignment bringing heroic Cade Lane into her world. Henrietta's research reveals that Mr. Lane is not only the firefighter that saved a child's life, he's a man with a pin-up calendar worthy body. More importantly, he's a man that deserves appreciation.
For Cade Lane, being a is firefighter is more than a job—it's who he is. He is also very surprised to find that Henri James is a woman! A very sexy woman who sets his blood burning. He quickly does anything he can to get closer to her and kindle the heat of instant attraction between them, stirring an inferno.
When trouble threatens, putting heart and body in harm's way, can the flames of love be kept burning bright despite the firestorm? 
Book 2
 Blurb: Sterling Moon: Captivated
The North Cascade Mountains harbor many mysteries, and one of them is Adrian Dillon: man, werewolf, and master of his domain. Manning the remote rescue cabin during the winter was his one ticket to unfettered freedom, until one day it comes to an abrupt halt.
Studying wolves had always been Jessica Allen's passion, not just for their preservation, but to find answers about herself and her bloodline. Opportunity and fate entangle, seeming to work against her until one man extends a helping hand.
When deceit and betrayal rock Jessica and Adrian's world, can love forge a bond that is more than physical?
Blurb: Sterling Moon: Enchanted
Dalton Adams is working to achieve his doctorate in wildlife and zoology. His thesis paper on the difficulty of wolves replenishing themsleves in the northern Cascade Mountains, leads him to a cozy lodge located in the Cascade Mountains. His long, and out of season, reservations, allow him to be close to his source of information, while allowing him to shift from man to wolf. But his plans are altered by a twist of fate.
Faye Dillon finds her world forever changed when her guest arrives. She is attracted to the dark, shaggy haired man with piercing blue eyes. There is an instant, unamed connection between  them. She gets more than she bargans for when the Alpha steps into her life.
Blurb:
Eden at Twilight is the story of Lily, a woman who wants love, and Leaf, a man who risks it all to love her.
Lily Moore is an ordinary accountant who works long hard hours, leaving room for little else. After strange occurances begin haunting her, she is convinced by a motherly friend to take a vacation in Scotland. While there, she meets the man of her dreams, a handsome stranger with shifting hazel eyes.
Leaf falls for Lily the moment he sees her, love at first sight. Never has a woman taken his heart so quickly. When trouble stirs and threatens her, he stands by her side, traveling through time and dimension to reclaim her from a deadly Drow leader.
Lily has no choice but to trust him and hope his strength will pull them through. But is his strength alone enough?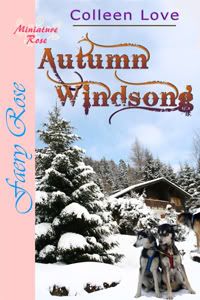 Autumn Windsong Blurb: 
Alita Wickstrom lives alone in the Alaskan Outback. Her dreams are haunted by the spirit of a large Buck, who visits her nightly in her dreams. His appearance shifts from deer to man as he loves her. She knows this kindred spirit is her soul mate and invisible ties will bring them together when the time is right. One fateful night, she hears a shot fired and the tie is severed, jolting her awake. She follows her heart and intuition; she readies her dog team and makes her way into sub zero temperatures, letting her trusted canine companions take her to where the shot was fired. She finds an exquisite man. But is he her destiny?
 Thief of a Goddess' Heart Blurb:
Ivy Jones is an Anthropologist who is out on a dig and discovers a rare statue of Athena. It takes possession of her.  The financier of the dig, and local gallery owner, Donovan Hayden, finds out it is priceless and takes it from her, putting it in his gallery and using it as leverage to keep her. She soon begins to detest and loath men and does whatever it takes to rebel against them.  Her most open act against them is her prized possession is her Cotton Candy Pink, high glitter Chopper, which is an abomination to every biker man out there. When The Athena is suddenly missing, she is accused of stealing it and is put on unpaid leave until it is found. If The Athena isn't found, it could mean death for Ivy. Dane Knight a Navy Seal, turned Private Investigator, is hired by the insurance company Hayden is scamming and is to investigate The Athena's disappearance. He is instantly attracted to Ivy. Her anger and resentment seem to attract him even more and they are literally thrown together.  He wins Ivy's heart by his quiet, gentle strength, rather then the brute force he could use. He teaches her not only to love him, but herself as well.